Welcome To Gates To Zion!

Parasha 11: Vayigash (And Came Near)  B'resheet/Genesis 44:18 – 47:27)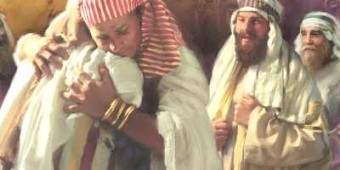 In our Torah parasha for this week, we have Yosef revealing himself to his brothers.  As we saw in our parasha from last week, Yosef's brothers were still unaware of who they were dealing with. Yosef recognized and knew them, but they were still in the dark as to his own identity. This is about to change in our study this week.
There is still a process at work that Yosef has set in motion so that he might know if there had truly been a change in his brothers. He needed to know if there was any change at all in their hearts and their relationship with one another. Or, were they still the same selfish, wanton, conniving brood who had sold him into slavery so many years before. Everything Yosef had been orchestrating since his brothers first came to him to buy food was meant to arrive at this moment. What we are about to read will settle the matter in Yosef's heart and lead to his revealing his true identity to his brothers and the result of what that moment will bring.
Yehudah's History
            We have watched as each of the brothers who stood in line for the place of firstborn, kinsman redeemer, in the family failed to prove themselves worthy of that honor. Shimon and Levi failed in the handling of their sister's situation with the men of Sh'chem. Reu'ven failed in sexual sin. Finally, the place of honor becomes Yehudah's to prove him self worthy of receiving.
            In the outset, Yehudah had not shown much hope in this effort. Reu'ven had made a somewhat weak attempt at possibly trying to regain his place as firstborn by trying to deliver his brother Yosef from the murder plot of his other brothers. However, he didn't put himself out in any real way. He did succeed in a momentary reprieve for his brother Yosef in getting the rest of his brothers not to kill him, persuading them instead to put him in a pit. Yet it appears his motives were more than just for Yosef's sake, it was more about keeping the hope alive of being able to look good in his father Ya'akov's eyes. The end result being reconsideration for the familial place of authority he had lost. Finally, Yehudah steps in and suggests that rather than kill Yosef, they should pull him out of the pit and sell him. It would keep blood off of their hands, and they would all profit from the scheme. The brothers agreed with Yehudah, and they worked out an elaborate tale to tell their father Ya'akov. They shredded Yosef's priestly coat, dipped it in the blood of goats, and told their father that a wild beast had devoured him.