Welcome To Gates To Zion!

Parasha 3 Lech L'cha (Go Out) B'resheet/Genesis 12:1 – 17:27
*All Scripture References from The Orthodox Jewish Bible- Referred To As OJB- unless otherwise noted
Joe Snipes (Torah Teacher) Gates To Zion Ministries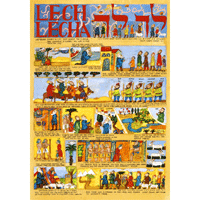 We are now about to come to a new emphasis on YHWH's part in this Torah portion. In the first eleven chapters of B'resheet/Genesis we have covered almost a 2000 year period! Now we are about to see the subject of Torah begin to be fine-tuned. YHWH is beginning to implement what the Kethuvim HaNotzrim/Writings of the Nazarenes/Messianic Scriptures refers to as His eternal purpose. (see Ephesians 3:11)
Some may be surprised to realize that YHWH's eternal purpose and His redemptive purpose are not the same thing. The former came to include the latter by necessity of mankind's fall. It is YHWH's eternal purpose that has, in fact, always been His primary thought. The redemptive element was implemented in order that what YHWH has always intended to do might be realized. Redemption, as great and necessary as it is, is a recovery plan. Redemption is about what YHWH does. The eternal purpose is about who He is. This is no small distinction. It is one which very few who call themselves believers actually truly understand. While YHWH's redemptive acts are glorious, it is He alone, regardless of what He does or does not do, who is truly glorious! The opening of this revelation in our heart will determine the purity of our motives in serving our blessed Abba YHWH. We don't have the time to give a further analysis of this here, but it is necessary to make the distinction at this point in order to come back to it from time to time.
In this particular Torah portion, we are going to look into two very important events in the life of Abram. The first will reveal the far reaching effects of YHWH's promise of multiplicity. The other, from WHOM he obtained his forensic [imputed] righteousness. Each has great impact for all of us who count Abram, who became AbraHam, the avinu/father of our faith.